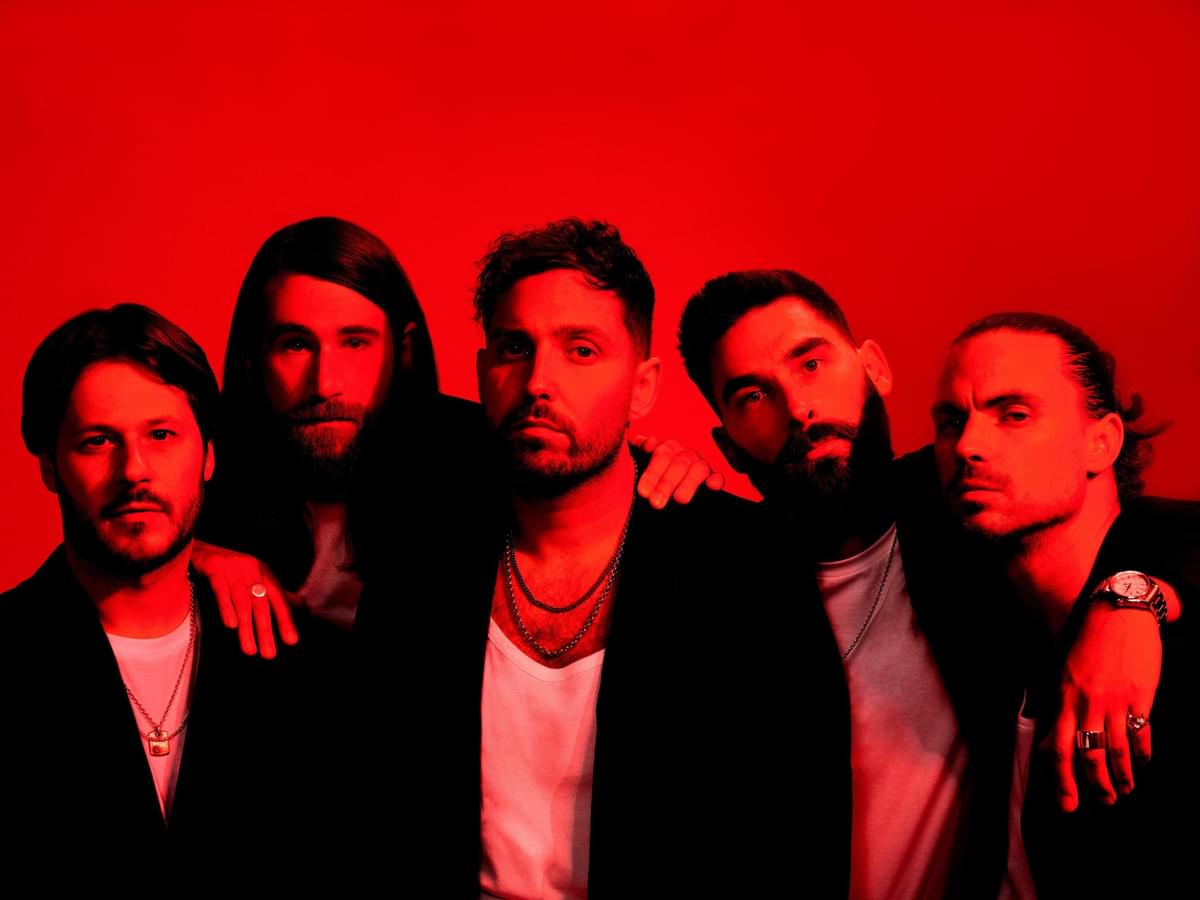 The ambition and determination of You Me At Six
10 February 2023, 15:20
Entrenched in the UK's alt. scene for over a decade, You Me At Six have weathered changing tides and thrived. Frontman Josh Franceschi tells Steven Loftin the secret behind their success.
It's 2004, and MySpace is king. You're updating your profile layout while deciding which track you just downloaded from Limewire should define your life until the next one. If, at this point, you looked up Josh Franceschi you would have seen a manifesting statement bio which he recites to me: "I'm going to headline Brixton Academy before I'm twenty."
"That's all my profile said from about the age of 14," starts the You Me At Six frontman. "So I've always had an idea of where I wanted to go…I do believe in manifestation." Indeed, if you were to trail back to the late '00s, when his band first bounded into life with their teen-angst-ridden suburban living pop-punk sounds, including "Save It For The Bedroom" and "Finders Keepers", you'd have been forgiven for assuming they might not still be here almost two decades later. Not only that but headlining the likes of Wembley Arena and Alexandra Palace - spaces far larger than that of his dream venue (which they've played multiple times over the years, including a three-night stint in 2018).
But, together with his You Me At Six bandmates – guitarists Max Helyer and Chris Miller, bassist Matt Barnes, and drummer Dan Flint – the vocalist has been fronting one of Britain's prime examples of a can-do attitude. In building a fan base over the years that has supported their lofty ambitions, they've secured their rightful spot at the dinner table of a specific subset of U.K. bands. Featuring those who have survived the second decade of the millennium to become treasured names of the alternative world, including the likes of Enter Shikari, Biffy Clyro, and Bring Me The Horizon, they've all achieved this by peddling music that, if it speaks to you, works its way into your blood – every bonfire chorus a calling card for a universal emotion. It's a tactic that has not only worked but paid dividends.

Now on their eighth outing, Truth Decay – and their first on heavyweight alt label Rise Records – theirs is a story that survives fads. Perennially ready to reap the rewards when they do come back around, in 2021 they achieved their second UK Number One album with SUCKAPUNCH (the first came with 2014's Cavalier Youth). "That was sweeter than the first one because a lot of people that we'd worked with had stopped working with us," Franceschi tells me. "[They] were pretty adamant that our time was over. So to go and get a number one record, since having worked with them…it was just a very poetic moment for us to give them the middle finger."
This is why this eighth outing feels like a victory lap of sorts. It's a culmination of lessons learned but with even more of that underdog bite. "On your eighth album, I think you're well into extra time at that point," Franceschi muses. The clock may well still be ticking, but their time now is best spent relishing in all they've done, and just seeing how much further they can take things.
Laid back on a bed with tousled hair, the phrase 'No Problemo' adorning a plain white t-shirt, Franscechi comes across as the sort of figure who is humble but aware he has a role to play. He's a spokesperson for the band he helped found with his school friends which still manages to retain that spark, yet, there's no messing around. This is a job.
Just how this plucky group of mates from the unassuming town of Weybridge in Surrey turned a pipe dream into a full-blown career – one that has carried throughout their lives – is rooted in ambition. A key ingredient, certainly, but something that simply sticking to a plan and hoping for the best can't affect is the band's relationship. Their ability to remain together, and not only that but seemingly flourishing, is what Franceschi is currently chewing on. "Going from being 16/17 right into our 30s, and still being in a band whilst also witnessing so many of our mates and our peers that have come and gone in that time – and they've even started new groups and have completely different positions in life now – but it reaffirms how mental it is."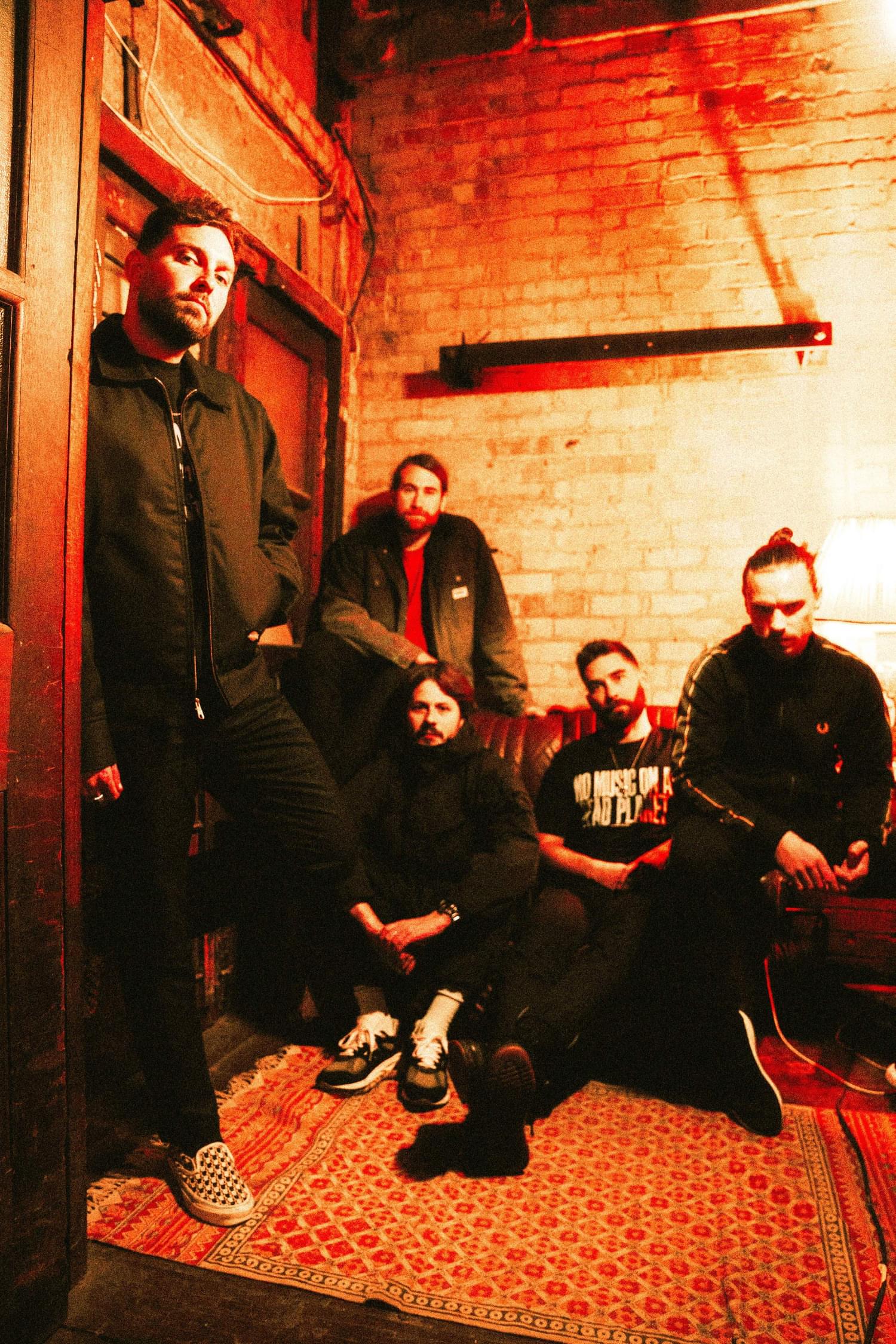 As comfortable on the infamous Warped Tour as they are at BBC Radio 1's Big Weekend, it's very possible to underestimate You Me At Six's draw. Having seeped into the mainstream over the years, they're able to deftly dance between pop-punk nostalgia for those who came of age with the early '00s wave and bolstered radio-friendly hits that fit comfortably with the new generation coming through.
It's how they've managed to achieve this that most of our conversation tackles today. For all the pondering, the most succinct sentence that defines You Me At Six, for Franceschi at least, is "We're always still the five lads that will go down to the pub around the corner and have a really cheap pint of Stella, d'ya know what I mean?" He chuckles.
Certainly, a group of five white Brits toting guitars and songs of love and all its nitty-gritty bits doesn't hold the same weight it once did (thank god), and the stock of You Me At Six is hardly that of one from trial and tribulation, but the determination they've used to convert youthful ambition into this eight-album story is to be admired.
"I'm not for one second saying that we come from working-class backgrounds," Franceschi quickly holds his hands up. "But we have the mentality of when you don't come from very much, and you start having something – and I'm not even talking about monetary-wise. I'm talking about when you have something that you don't want to lose and can't afford to lose it. It keeps you grounded.
"I've often found that getting to the top of anything is actually not that difficult," he continues. "And I say that in the sense of having momentum and having a moment. That does happen for a lot of people in music. I think there are a lot of artists that could have six months, 12 months, or 18 months where they can do no wrong and every turn they take is the right one and it all works out. But staying there and maintaining that level is a completely different battle."
An important facet of surviving this fraught ecosystem is understanding the control – or lack thereof – you have. "We like to believe there's a master plan, and then when we take a left turn and the plan doesn't quite materialise," Franceschi explains. "What happens is you realise that things are out of our control…but I think there's definitely a lot of drive or a lot of ambition and a lot of conversation that goes on between us. I mean, I don't think you get to headline Wembley when you're 21/22 if you haven't got a plan to get there."
Since forming in 2004, they've managed to secure every milestone they have set out before themselves. Not just that but, "we achieved everything that we were told categorically was impossible for a band like us," a palpable defiance breaking through his voice. This opens the question of if the stakes feel any different these days, given they have a suitable amount of success under their belts. "Maybe the stakes are just kind of different if that makes sense. Not either heavier or lighter. They're just different."
The story of Truth Decay begins in 2022 in Cornwall. Heading down South to see where the future would take them next, Franceschi readily admits that this sojourn didn't exactly begin with the greatest of winds. "I was like, what is the point of us being here? What are we doing?'" he says. "Because in one room, somebody's making a song that sounds like Every Time I Die, and in the other room it sounds like Bicep and in another room, it sounds like fucking Paramore. I'm like, what is going on?! There was no real direction or focus."

After a frank conversation, they managed to hone in on what ended up becoming Truth Decay. "Once we knew what the guidelines were, it was like, I don't want to say one of the easiest records we've ever made. But, everything was so familiar, but also challenging – but challenging in [terms of] how do we contemporize this? How do we make this not feel aged? Or compromised? If anything felt like it was just a bit of a parody of ourselves, or a pattern or a parody of that sound or that scene we were like, we shouldn't do it."
While the previously mentioned likes of Enter Shikari and Bring Me The Horizon – both whose respective frontmen have featured on You Me At Six singles – have carved out their spaces, for You Me At Six the question of what it is they're bringing to the table lingered around the Truth Decay sessions. "There are certain bands that fall in certain categories as being the dominant bands in those categories. And I was like, 'Well, what do we dominate?'"
This question hangs heavy throughout their last few outings which have all flirted with evolutions in sound, but never quite finding their feet as a true trajectory. Continuing, Franschechi explains to me: "What are we good at doing? If people talk about You Me At Six right now, what would they say? Because I don't know how we would describe our band at this point. And there's some strength in that, that people don't know what to expect next."
However, an eternal duality exists within Franceschi. Openly declaring that he wants "to be at the top of something, I want to be the big fish," it's no longer a sentiment to be sniffed at, particularly in a world so disregarding of art. "We listened to all our back catalogue and we learned the fact that our collective favourite era was Hold Me Down, Sinners Never Sleep, Cavalier Youth – us being emo, pop-punk, rock."
These changes in sound have varied, with the most extreme, electro-soaked entries feeling like executed ideas still waiting to be fully fleshed out. Though these experiments are rarely to a detriment, plus the want to evolve and change with the times and tides is a natural reaction. "I think we've been pretty brave at times," he reckons. But there's a core to You Me At Six, and their sound is returning. This is something noted not only by the fans but by the band themselves. "I think we've also been unaware of what it was that we had. And I think the biggest compliment I've read about the record from our fans is I got my favourite band back, which is how I feel about it."
Referencing 2016's swaggering Night People, their first outing post-number one Number One, the cracks began to show, presenting themselves as discordant – yet confident – sounds. "We made Night People in Nashville which was all like, leather, country rock aesthetic – that's not us in the slightest. But we made a record for four months and Nashville – lo and behold, we came back with a record that had a bit of that there and so for me, it was just making sure we had a very clear direction that propelled us to be able to make a really earnest and uncompromised You Me At Six record, which is pretty dope."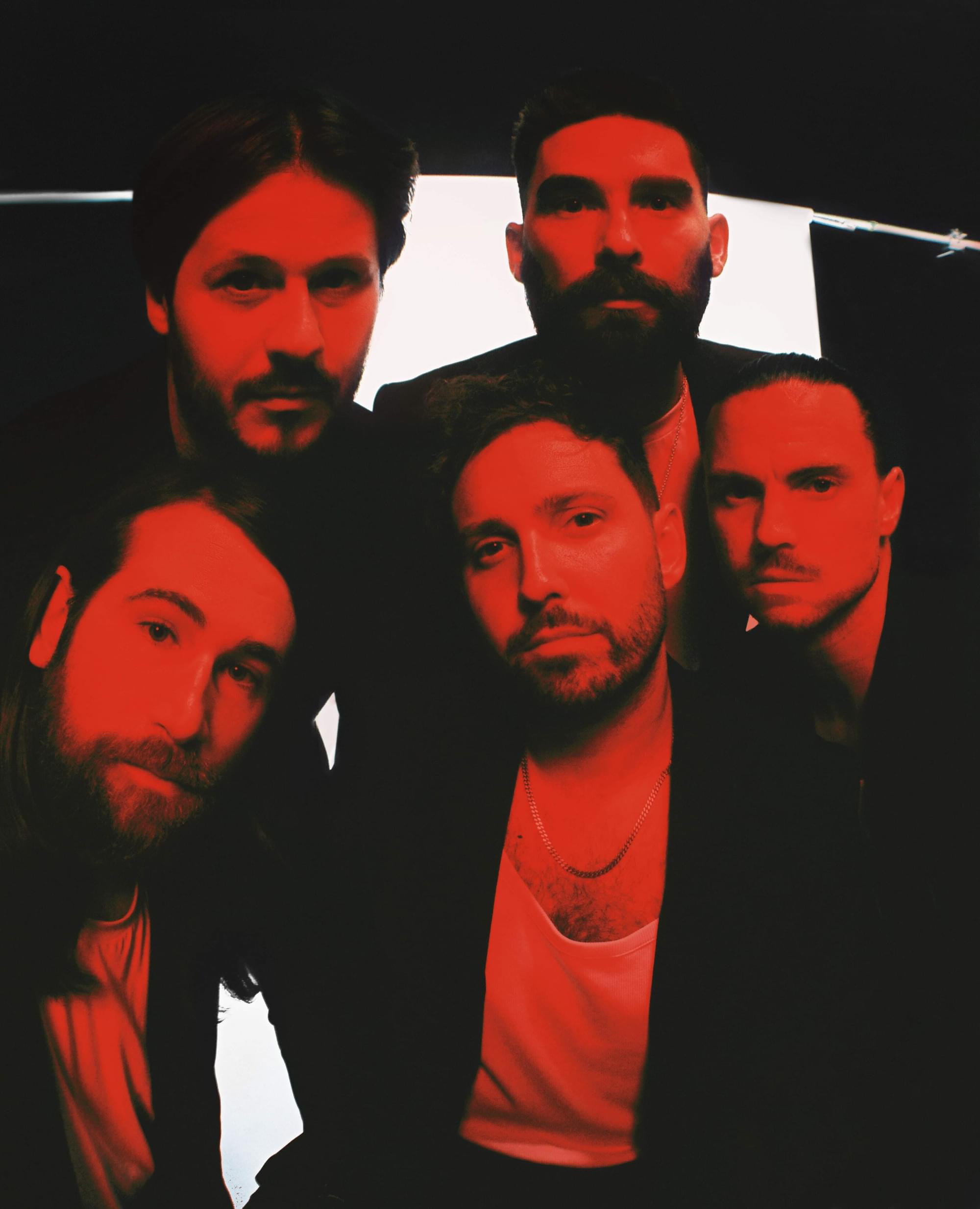 Truth Decay holds some of You Me At Six's strongest choruses to date – the kind that soars through your body like the most determined of pop hooks, elevating you to another plain a la the SpongeBob headphones meme. Even pandering to the idea of nostalgia with "God Bless The 90s Kids", it's another concoction made to fortify the You Me At Six songbook, which, while rife with expressions of the most basic emotions, can often feel repetitive. But, as they've aged, they now come with an added maturity which is often reinforced by the fizzing airiness of pop-punk with the swinging thud of heftier influences.
There is a genial warmth that exudes from Franceschi. Having interviewed him a few times over the years, it's an aspect that has always struck no matter where the band falls on their cycle, even today in the throes of a virtual promo day. His is an earnestness that mirrors the bands, and these lessons they harvest from like-minded folks have helped them reckon with band life as they've gotten older.
"I don't think there's another industry which has more of a revolving door than the music industry," Franceschi says. "The first-ever publicist we had was a woman called Phoebe Sinclair. And when we signed to EMI when I was like 17/18…her main thing was to treat everybody the way you'd want to be treated on the way up, and you've got a chance on the way down."
From press visits to label meetings, and interns fetching coffee, "you should want to have those values and that sense of morality regardless because you don't know if in five years time that the person that went and got you your sandwich from Pret is actually going to be the A&R, and that people remember how they're treated by others."
"The biggest compliment I've read about the record from our fans is I got my favourite band back, which is how I feel about it."
(J.F.)

In an industry as volatile as music, relationships like this are precious. But none more so than that with yourself. For all the drive, manners, and ambition, time keeps on ticking, and for Franceschi, that means getting a little clarity. "I think as you get older things happen that naturally cultivate a mindset or just an understanding of how things are different – why they're different – and the value of being aware of that is important. And, you know, the way that I viewed things when I was 16/17; wide-eyed, fearless, almost like you could fall off your bike, or be pissed at a club and fall downstairs, or get in a crunching tackle in football or get punched in the face in a fight – things hurt a lot less when you're younger." This list of cavalier, carefree activities is soon quashed by his admitting that now "If I bend over, maybe a bit too quickly I run the risk of doing something to my back!" Such is the price for wisdom and experience.
But, occasionally their drive can be misconstrued as conceit. Admitting his habit of being withdrawn when out, particularly at club events and after parties, "sometimes people mistake [this] as being arrogant or thinking they're better than the place they're in." This has changed over the years with the conversation around mental health opening up. "As we've learned more and more, and it's become less of a taboo topic of conversation, maybe it's [actually] got more to do with the fact that inside, I'm like, I don't want to be here. People keep coming up to me and asking for pictures. Lads keep looking at me like they're gonna knock me out [just] loads of different factors come into it and so that sometimes has been mistaken for ego."
Ego is a word that could easily be tarred across You Me At Six, particularly with the braggadocio of their later work. Even in a live scenario, they bound and strut, commanding rooms the way their anthems demand. But on these nights out where Franceschi would rather be anywhere than here, that brush finds its stroke, even when he has no idea it's happening.
Recalling a day at the pub with one of his childhood friends, Franceschi learned that opinions were cast upon him like fickle daggers in his back. "He was like it's so funny man, how all these people who used to say stuff to me, I used to think their opinion of you was really bad [but] they're all fuckin' wastemen. And I was like, What?" His eyebrows raised. "What do you mean? He's like, Oh, yeah, everyone thought you thought you were better than everybody because you'd stop coming out to local shows, and stopped going to house parties and clubs, and all these things…yeah, because I was fucking working!"
Prioritising the future of You Me At Six, with his own self-professed "tunnel vision", over being "out doing bag until six in the morning on a Wednesday," and instead "I was at home on conference calls to Epitaph records in America or being in meetings with our management, or going into rehearsals, or writing because I had a very clear path of what I wanted, and I knew how to get there and it didn't involve fucking around."
Amongst those in bands often comes a phrase, something more or less along the lines of not caring about success and only being in it for the love of the game. A thought that's easier to stomach when you're riding some level of favourability. But Franceschi remains an eternal realist. "People that make comments like 'Oh, I just fucking love it so much that I'd be doing this even if only five people started coming to my show,' – no you wouldn't," he says matter of factly. "If you've been headlining arenas, and huge theatres all around the world for a decade, and then suddenly 20 people came to watch you at The Barfly you'd quit then and there."
"I don't have any other qualifications, I don't have anything that makes me passive income. My band is my job."
(J.F.)
This is why You Me At Six's dogged determination has only gained momentum over the years, as he readily admits, "I don't have any other qualifications, I don't have anything that makes me passive income. My band is my job." With the spectre of nights getting the Megabus to towns like Newport to play small bars for fewer people than on the stage ("and the pub dog!") eternally etched in his mind, "I know what that feels like," he attests. "And I know what it feels like to stand on stage at The O2, or to be at number one album parties with my family or friends and my label, so it's that thing of hoping that we put stuff out and our fans enjoy it."
Mainstream ambitions with an underdog spirit are the essence of You Me At Six's DNA. Even ifTruth Decay doesn't top the charts, or the hallowed stage of Wembley doesn't come calling again, they've completed Franceschi's MySpace wish, everything else has been a bonus – admittedly one that was carefully curated from circumstance, timing, and plain old hard work. The future is still unwritten, the past's ticked checkboxes are going nowhere, and with the support of friends, family, and even their management and label, the key is to take a breath. "That instils in you to just calm it down, you know, not to get too carried away."
Get the Best Fit take on the week in music direct to your inbox every Friday