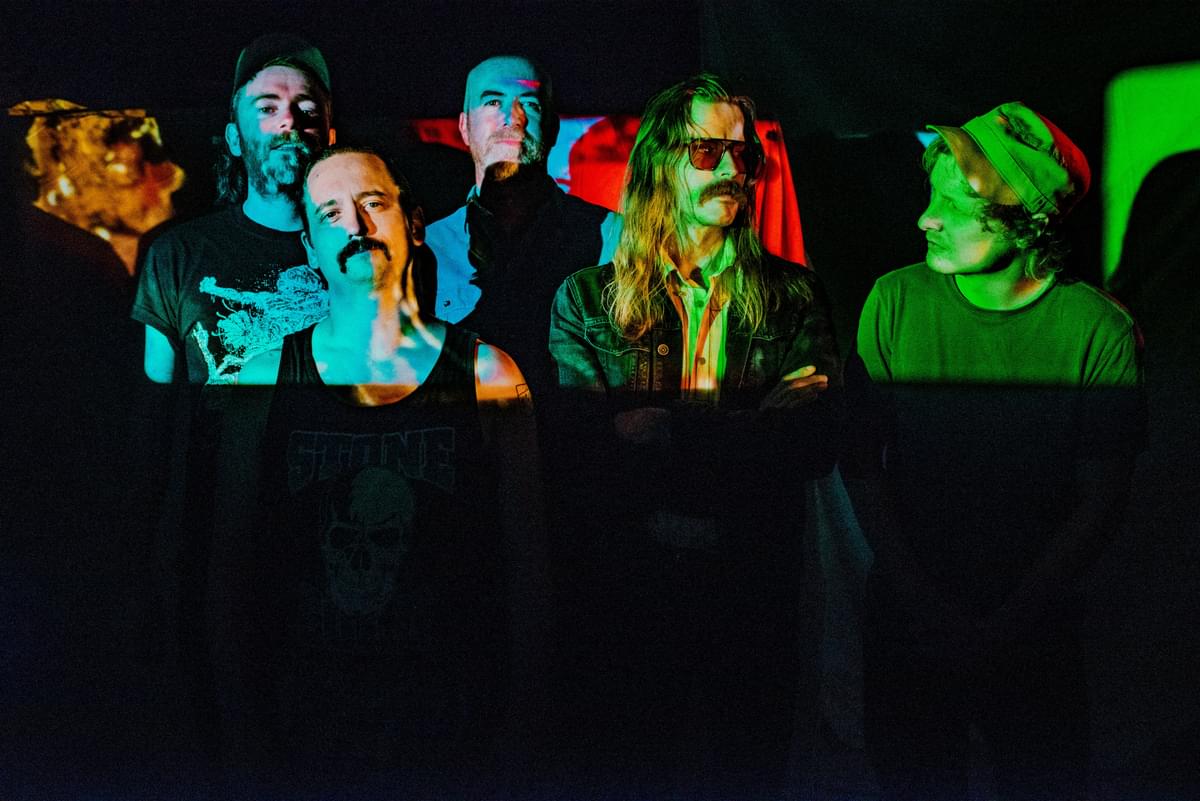 Emerging from slumber with Pigs Pigs Pigs Pigs Pigs Pigs Pigs
13 February 2023, 09:00
Original Photography by Ania Shrimpton
Northern charm is not lost on Pigs Pigs Pigs Pigs Pigs Pigs Pigs, in fact it's very much rife, palpable through the video call with the band's vocalist Matthew Baty, guitarist and producer Sam Grant and drummer Ewan Mackenzie.
When they're not on stage committing sonic mutilation, the members of metal bands tend to always be imbued with a warmth that seemingly opposes the kind of music they make. The same is true for Pigs; their individual personalities couldn't be more welcoming and compliment each other like the kids at school who didn't fit in, but never wanted to in the first place. Grant is very much the wizkid, Baty the loveable rogue, and Mackenzie the quiet but witty one. You get the sense that Pigs are more than just a band, perhaps not brothers, but definitely rough-housing cousins.
"It's a fairly small city," Baty says about Newcastle, where the band were formed in 2012. He met Grant and bassist Johnny Hedley through school in Richmond in North Yorkshire, with Mackenzie and guitarist Adam Syke joining the line up through natural music scene assimilation. "If you have any kind of left field interest in music, you bump into the same people at shows. Coincidentally Ewan used to be in a band called Snow Blood, and I had all of his albums. I bought a Snow Blood album on a recommendation from a Newcastle record shop."

Addressing Ewan, he says "I think the first time I spoke to you was in The Cluny. I just remember being really excited that you were in Snow Blood." Grant chimes in, "I illegally downloaded one of your albums actually", which leads Mackenzie into a fit of laughter. "We wanted it to be free anyways," he responds in his homely Scottish accent.
Mackenzie was in the initial incarnation of Pigs, leaving in 2017, but joining again for their upcoming record Land Of Sleeper. "I got a call on New Year's Eve, almost a year to the day last year, and I knew there was something up, just by the tone of [Grant's] voice. It was funny that he asked me on New Year's, [as] it's a strange time to call. I sat on that for two weeks and I think it was always only going to go one way to be honest…"
With three albums now under their belt, Pigs have not only accumulated a solid fanbase within the metal and hardcore scenes, but beyond that too with their left field take on heavy guitar music that is sincerely transgressive and rightfully critically acclaimed. Metal fans will fawn over the band's rudimentary chord structures and weaving solos, but especially with Baty's vocals which sound like the product of Lemmy ripping himself out the fiery pits of hell and grotesquely rebirthing through the earth's crust. However, Pigs truly distinguish themselves through Grant's painstaking production skills; a master of his craft, he is a conjurer using dark magic to turn simplistic sludge and doom aesthetics into a mad scientist's curation, sucking you straight into a world that's more psychedelic fantasy than anything of this reality.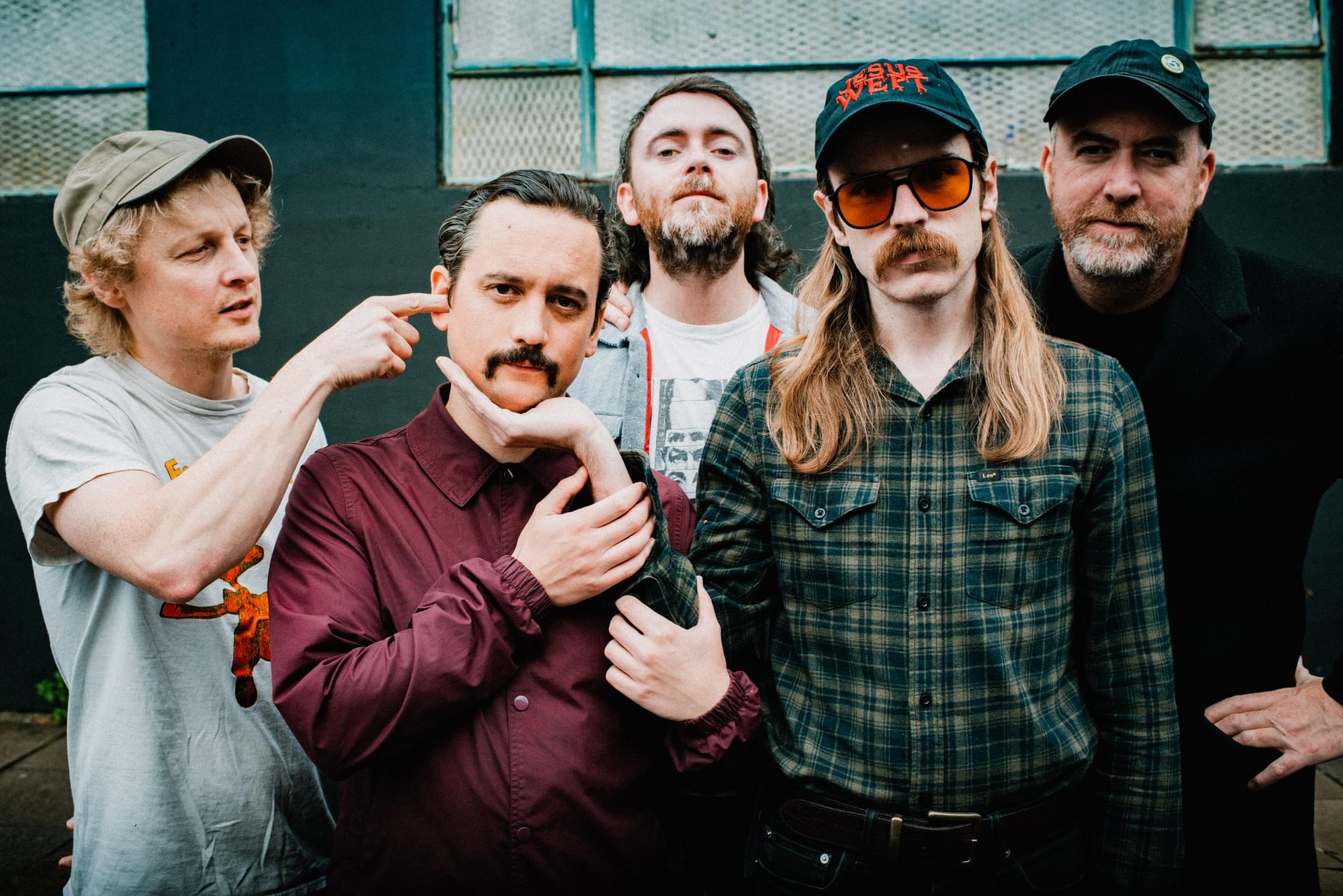 "In terms of writing [music], everything's written very rhythmically on the guitar side," Grant says. "Without being self-deprecating, the music is quite simple. It's very basic in its chords and its melody, [and] it relies heavily upon rhythm. It's always trying to find a certain sense of nuance to elevate the simplicity of the riffs, [and] Ewan is such a nuanced drummer in terms of how he rolls and pulls. Always from the beginning of the project, he's been such a fun drummer to play with. It fits the narrative of the music like a glove. It's really natural to write to."
Pigs' last album, 2020's Viscerals, saw the band grow their audience significantly during a time where they couldn't actually see the physical results of it. Naturally they felt apprehensive when headed back on the road, with Grant thinking they would only be playing to a handful of people at their European gigs and festivals this past summer. However, the audiences were always packed to the back of the room, much to their surprise. "It's been so well received and it's caught us all off guard," he says. "I was a bit worried that the pandemic was going to pull the rug out from underneath us, [but] it was quite special and quite unexpected. It's reassuring to go and play these shows, and realise that there's still people that want to come and watch us in places we've not played before."
Their dedication to the live circuit can be seen in how they regularly include regional towns on their tours, gigging in areas that most bands would never think to visit in their entire career. "It's certainly intentional," Baty says when I question him about this. "We're in a really fortunate position to be able to go to those places and draw audiences. It surprises me when our booking agent sends us a list of towns and cities we're going to be playing, there's always a few we'll raise an eyebrow to and be like 'well fucking hell I didn't expect to be ever going there!'"

"It genuinely surprises me that we can go there and pull an audience" he continues. "I grew up in a place, [and] I don't want to make it sound like a deprived area because it wasn't, but it was an area where there were no venues, there weren't rehearsal spaces for bands, and you didn't get musicians touring anywhere near. [Newcastle] was an hour and a half drive from where we grew up, and I would have relished some bands coming through our area. I enjoy it from that respect as well. You speak to people on the merch table in some of these places, and they're just so pleased you're there."
"Our booking agent says that we're a bit of an anomaly," Grant adds. "It's not usually the case that you could consistently go to different satellite towns, and still pull big audiences or fill the venue [there]."
As you'd expect with a band's fourth full length record, Pigs have noticeably changed things up onLand of Sleeper. Their songs feel less like raucous cataclysms, but more considered and mystical entities that are far more melodic and experimental than any of their previous efforts. One of the album's singles, 'Mr Medicine', is exemplary of this; a psychedelic convulsion that almost borders on space rock, with an equally as futuristic green screen music video. "As a band we're constantly playing on the edge of absurdity and absolute commitment to seriousness," Grant tells me. "Somehow we're constantly trying to sit in the middle of it..."
"I don't like the idea of regurgitation on a record." Grant says. "It's a confluence of different things that feed into the bigger picture, [such as] Ewan's drumming. It's a busy pattern, which creates more depth [affording] more ornamental elements within the music. In the production, I was constantly obsessed with things like piano or synths that would play off harmony or melody. Viscerals was really direct intentionally, [it's] as a hi-fi, blast out loud and proud record, whereas [Land of Sleeper] would be a headphone listen, where you would sit in a dark room and have a personal experience with it. I guess that was the biggest guiding perspective on the production side, to create something that was a different experience. In the past if I'm mixing I would be looking at other albums that I like sonically, whereas this record at no point did I have any sort of reference tracks or material, I just had what the previous album was, and what I knew this one wanted to be. It really went into its own space quite nicely."
Though it may seem like Grant could be steering the ship of Land of Sleeper, implementing unusual production techniques where he sees fit, the album wouldn't be what it is without the quirks of the other members. Take 'The Weatherman' for example, an ominous, mesmeric, and almost paganistic track featuring Bonnacons Of Doom vocalist Kate Smith and a choir including Richard Dawson and Sally Pilikington. The inception of that song came from the fact Baty can't play guitar, so relied on synth plugins to create a pulsating beat that still remains in the finished song.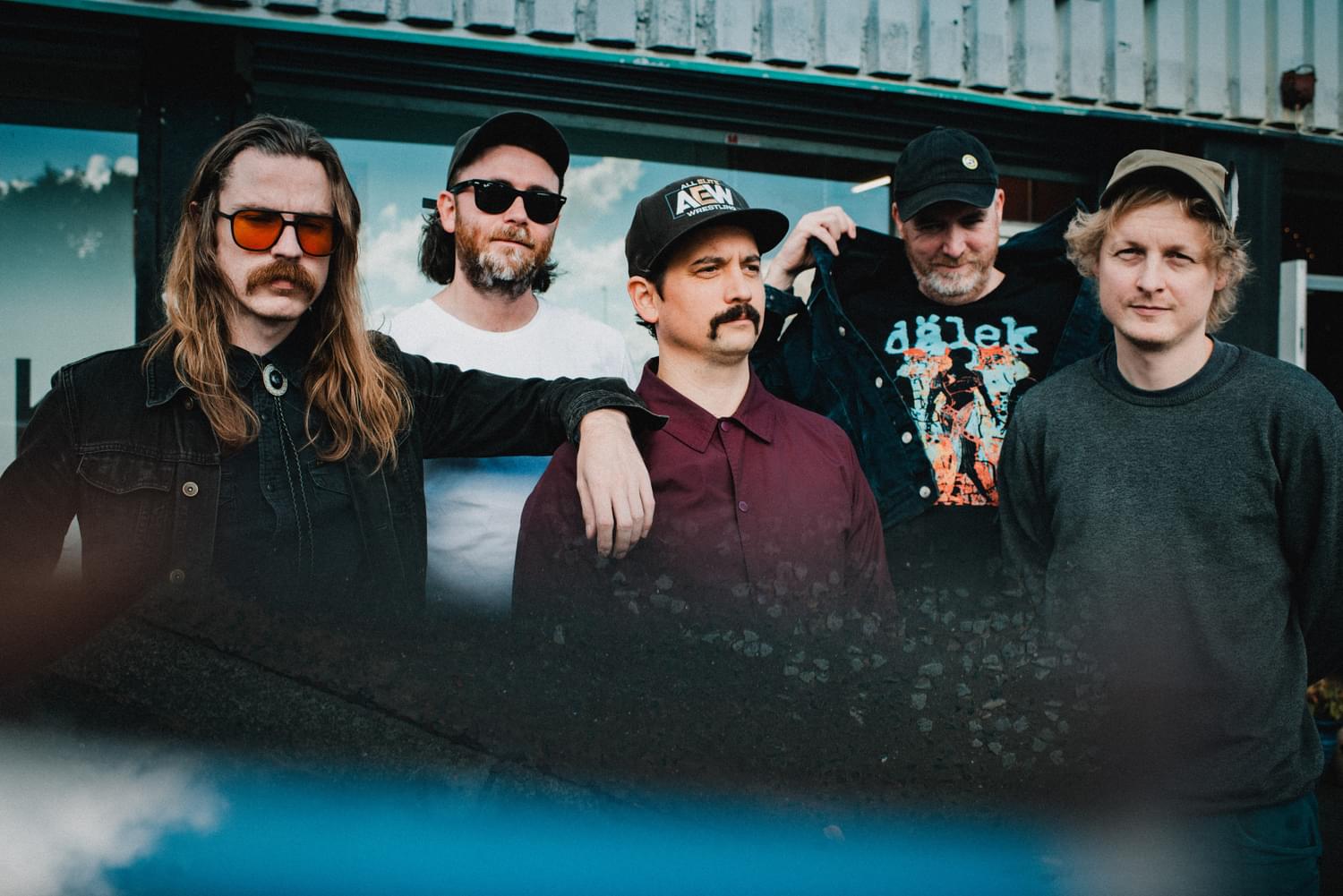 His approach to writing lyrics follows a similar unconventional path too. He tells me that "the direction of the lyrics is influenced by the music," writing only when he's heard the music and working phonically before formed words come to fruition. "It's much better because you end up with these lyrics that wrap around the music," Grant infers, with Baty going on to explain that before Pigs he had never been the vocalist in a band, only the drummer. His lyrical process is an evolution of that, using rhythm as a comfortable starting block and weaving words into the bigger picture. Mackenzie says Baty's vocals are its own instrument.
With an album that is so rich and transcendental in its approach to sonics, I wonder if Pigs' lyrics match the same sentiment. With Land Of Sleeper, Baty noticed he was writing a lot about cycles, whether that was "birth, evolution, death and decay" or moving through cycles like seasons [and] emotions. "There were those topics popping up throughout the album, [and I was] thinking about what you can weave into there metaphorically that will tie itself to those themes. Sleep felt like a natural one. In sleep you do some really big psychological evaluation of yourself and the world around you as well. For me, this band and the music is all about escapism. Sleep is the ultimate form of escapism, right? If you're asleep you're dead to the world…"
"To remove yourself from this world anyway," Mackenzie laughs.

Get the Best Fit take on the week in music direct to your inbox every Friday