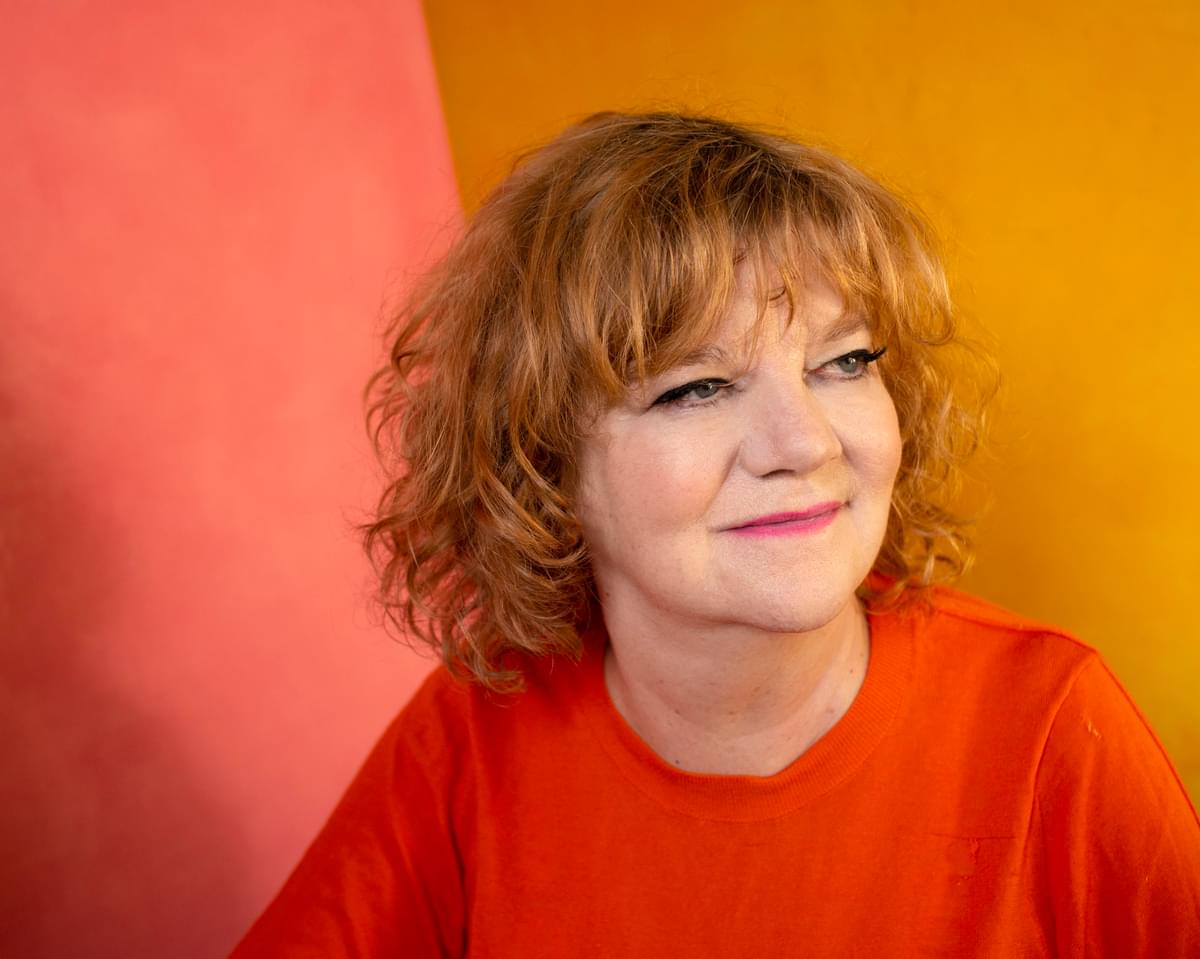 The golden rage of Gina Birch
27 February 2023, 08:00
Gina Birch's extraordinary career as musician, artist and filmmaker spans six decades. Elise Soutar traces her fascinating journey from co-founder of The Raincoats to her ripe and rageful solo debut I Play My Bass Loud.
Gina Birch wrote her first song in 1977: the slippery, dub-inflected "No One's Little Girl".
Its final recorded version wouldn't arrive until five years later, doused in layers of violins and sparse percussion, both of which dance around the grounded force of an undeniable bassline. The vocals enter the form of a sly, decisive whisper: "I'm not gonna be / 'Cause I don't wanna be / I never shall be on your family tree / Even if you ask me to." The melody sees the voice stretch vowels and dip where others would crescendo, as if acting out the lyrics' defiance in real time.
In a sense, it served as a manifesto for Birch, presenting an image of a young girl hacking away at the roots of whatever clearly defined, sensible future that usually awaited someone like her. The sound of The Raincoats, the band Birch co-founded that same year, wasn't too far off from the sound of a tree falling, its collision with the ground reverberating far beyond the London squats they then called home.
Formed around the bond between Birch and fellow art student Ana da Silva after witnessing a life-changing performance by The Slits, The Raincoats have built up an almost mythical status over the course of alternative music history. Even within the supposedly revolutionary London punk scene, the band was an anomaly, subverting pop music tradition while embracing their love for the format.
If their male counterparts still aspired to rock and roll glory beneath all of their posturing, The Raincoats were the personification of the movement's early promise: formally untrained but methodical in their construction, shambolically joyous but lyrically perceptive, delightfully anarchic in a way their contemporaries couldn't dream of. One could argue that it's music which exists out of time – difficult to map in a historical sense, still sounding like the future because we've yet to catch up to it.
With that immense legacy backing her up, it may surprise casual fans that Birch's solo debut, I Play My Bass Loud, took this long to arrive – but that would be to misunderstand Birch as an artist. Like the band she co-founded, there's a refusal to be confined present throughout all she creates.
In the past 40 years, she's worked on everything from releases by Raincoats' producer Mayo Thompson's band Red Krayola to her own '80s pop project Dorothy, with fellow Raincoat Vicky Aspinall. Enrolling in film school at the Royal College of Art later in the decade, she later directed music videos for the likes of The Libertines, New Order and Daisy Chainsaw. Meanwhile, her musical career continued with projects The Hangovers and The Gluts, through to the 2010s.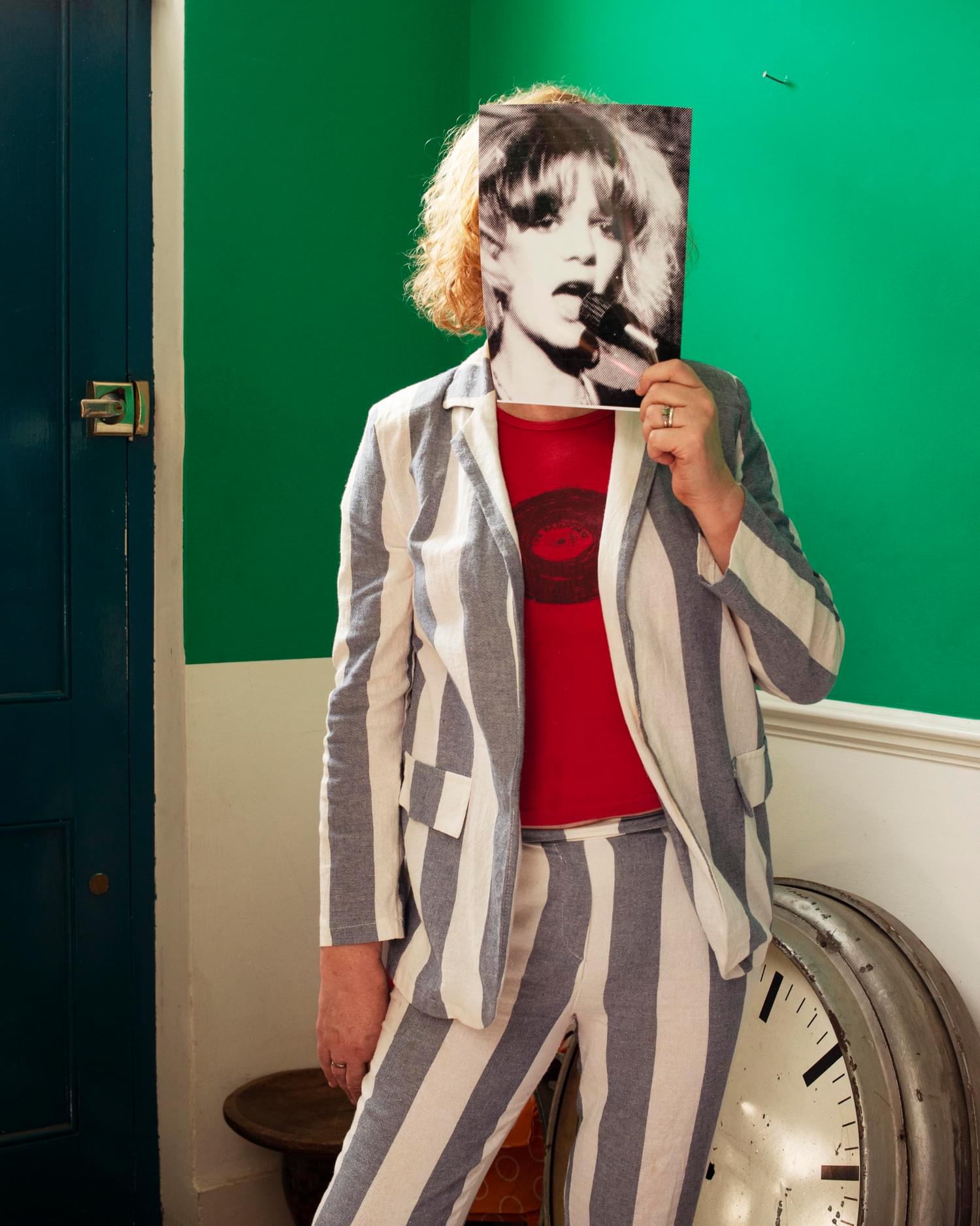 More recently, her focus has turned to fine art, staging her first solo painting show in London late last year. This inability to be categorised isn't intentional though; within minutes of talking to Birch about anything she's done in her expansive career, it becomes clear that to create joyously, regardless of the medium, is just second nature.
"They definitely feed into each other, but each one has its own thrills," Birch shares with a characteristic smile over Zoom from her home. In recent years, she's discovered her impulse to "rearrange the world" within the visual work she creates, exercising corrective control over atrocities committed in both the past and present.
"I could look at classical paintings and then think about the way contemporary life might change the stories they told," she explains. "Like, [Peter Paul Reubens'] The Rape of the Sabine Women – suddenly I'm updating that image to depict things that have happened to women where they've been shipped to other countries for sex work. Sometimes, I would send characters into the paintings to save people from things that happen within those paintings! It's very different from writing a song, but each thing brings its own joys and limitations."
Though she tends to focus her effort on one project at a time ("I delve into them and then, they lure me in deeper."), much of the material on I Play My Bass Loud had been gestating for years; the album's towering final track "Feminist Song" was first unveiled publicly by The Raincoats at a Museum of Modern Art showcase way back in 2010.
"The songs are still alive, and I chat with them," Birch says. "Each of them has been a living thing and changed a little bit over the years. It's not like I've gone into the cupboard and pulled these things out! They were still in the greenhouse, and I was watering them and nurturing them."
The finished product – co-produced by Youth of Killing Joke, who's previously worked with Birch's contemporaries Poly Styrene and The Slits' Viv Albertine – still squirms and shifts like a breathing organism, jumping from hook to bizarre breakdown without a hitch: immediate but unpredictable. From the fuzzy, Breeders-style pop rush of "Wish I Was You" to the spacey groove of the title track, it's a sonic sampler of the left-field pop landscape Birch helped to invent and continues to embrace.
If a given track hadn't been growing in Birch's head for the past few decades already ("I've been working on songs on and off forever because I can't not."), they were given the same space to bloom and blister in the studio. As an example of the sessions' spontaneous spirit, Birch cites "I Am Rage", for which she brought the lyrics in as the form of a poem before adding musical accompaniment. Those specific lyrics alternate between broad abstraction and visual specificity, weeding emotions out to examine them (not unlike her habit of playing God with the characters from her paintings).
"What triggers it, this red hot howl?" she sings. "Is it a fracture in my head? / Don't ask me to be reasonable / I can hear you, I'm just not listening." She acts as both the object which disrupts and the arm that throws the verbal grenade into the crowd: "I rage, I am rage."
Similarly, Birch notes that the woozy pre-chorus on "Dance Like a Demon" was devised on the spot during recording, comparing it to a "Lilac Wine"-adjacent drowsiness evoked by the lyrics: "Feel the swaying of the room, weaving in and out of dreams / Gotta find you, I've gotta find you, Gotta find you / I've gotta find a way outta here."
She also recalls improvising the bass figure for "And Then It Happened" on a whim while Youth had stepped out of the studio. "I said to Michael, the engineer, 'I'm just gonna play this little bass tune,'" she remembers, laughing as she conjures the image of a mischievous kid going behind her teacher's back. "I didn't even know what it was gonna be! I just made something up on the spot." As opposed to the slow, drawn-out birth of some of the tracks surrounding it, she estimates that one "took about 15 minutes."
"With The Raincoats, I didn't want to learn a formula for songwriting," Birch says. "We weren't against that, but we deliberately weren't slaves to it. We put one section after another section if we wanted it. Quite a lot of the songs here are not written in a typical structure."
The mix of styles, processes and deconstruction of what a pop song "should be" is nothing new to Birch; certain moments of the experimental and accessible clashing recall the skittering, nervous tiptoe of the title track from 1981's Odyshape, or the loping exuberance of "In Love" from the band's 1979 debut, both still immediate pop songs beneath their surface abrasiveness. Her love of reggae, prominent on so many of those early tracks, hasn't diminished either: "I like spaces between notes. It's funny, though, because it's like everyone in the room always wants to fill them somehow! I just always liked that soundscape. It wasn't too complex, but the overlapping sounds created complexity."

"I feel like ripe fruit right now! Everything has been building and blossoming!"

(G.B.)
That interplay of light and dark crops up constantly if you search her prior work, with much of it provided by collaborators or stage partners who pushed against Birch's own instincts. She raves about The Raincoats' one-off onstage appearance with Angel Olsen and recalls her attempts to possibly write an opera with former producer Mayo Thompson; one could even look to the oft-mentioned differences between Birch's ear for melody laced with an innate sense of humour and Ana Da Silva's more sonically brash contributions to The Raincoats' catalogue.
"Collaboration isn't as back and forth – sharing equally – as it might seem," she agrees. "It's almost like interjecting! Or disrupting! I've become a bit of a Beatles nut with Get Back coming out a while ago, and with Paul McCartney songs, John Lennon would interject with something more brutal or negative. It gives it a bit of depth."
Noting that the likes of Thurston Moore, The Modettes' Jane Crockford and Da Silva herself make appearances on I Play My Bass Loud, she decides, with a knowing grin, that there's one major throughline: "Basically, I look for people who make weird music. If I find somebody who can make really strange sounds, I like them."
Yet, within that bit of neat categorisation – Birch as the light, reflecting against her weird collaborator as a foil – some of that disruption comes from within herself, attempting to balance justified anger at the world around her while also reconciling that she must move forward.
"Basically, I'm quite a happy person, but I rage too," she acknowledges, referencing her own lyrics. "When I started doing my big paintings, it was way before the #MeToo movement, but a lot of them were about things that happened to me and my friends as young women. I wanted some kind of revenge, maybe, by saying 'You fucker, you asshole' [through the work]. That abuse of power makes me mad, so there's rage in that."
She also references a painting she made of Nasrin Sotoudeh, the Iranian human rights lawyer who received public attention for representing young women who refused to wear a hijab in public – a federal offence in Iran: "I don't know what the correct response is apart from rage. With our governments, and their behaviour and their greed…there's so many things to derive rage from."
That rage hasn't been dormant or recently awakened, and the visual representation of the new album is proof. In a full-circle moment from the beginning of her career as an artist and musician, I Play My Bass Loud's cover arrives in two halves: one shows the pots and pans that would pile up in the sink of her first London squat in her art school days, and the other depicts Birch herself around the same period, mid-scream.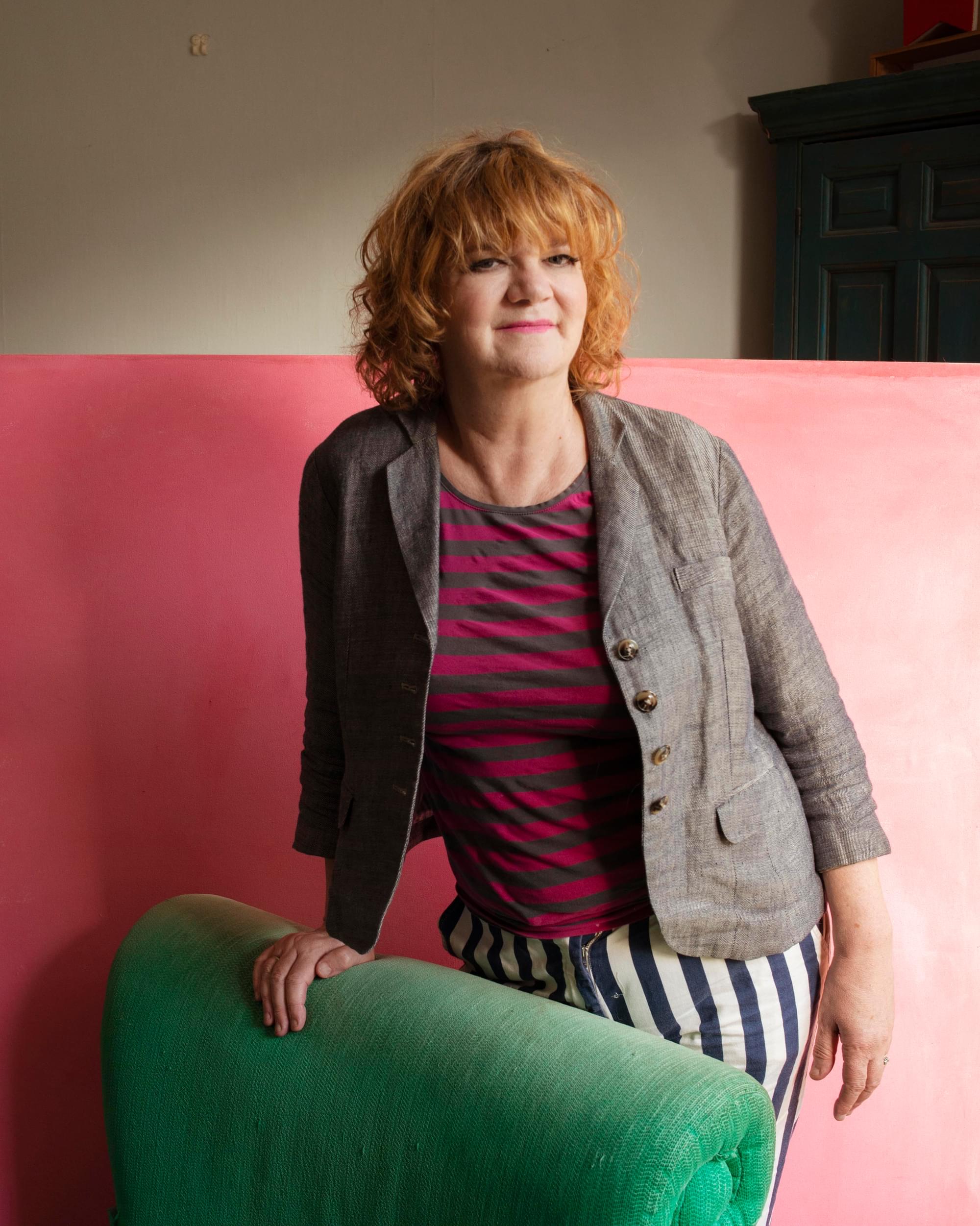 "That face is like taken from this [recording of a] three-minute scream I made then," she explains. "I got involved in Super 8 filmmaking, and I just screamed for three minutes. So, I made this painting which I called Loneliness, because it was when I first moved from Nottingham to London and I felt very out of sync with the city."
"It's quite funny though," she reflects, "because it's from the beginning of my time in London, and now this is the fruition of all those years! I feel like ripe fruit right now! Everything has been building and blossoming! I feel like there's energy around the projects that I'm doing – I've had my first big solo painting show in London, and made my first solo record and it's been well received. I think life is worth celebrating. I love a sad song, and there was one time where I could only write sad songs, but I think what I've managed to achieve on this album is conveying rage, but with a kind of positive outlook."
Above all, the DIY ethos peddled by that first wave of British punk and post-punk, which The Raincoats embodied, remains a throughline: "The songs are quite simple in terms of their structure, but I like the idea that other young women will pick up instruments and play and make sounds and buy guitars or basses or learn the technology and rage."
It'll be nothing new for Gina Birch, whose artistic fingerprints can be found covering everyone from Bikini Kill to Nirvana to Beat Happening to Big Joanie. The echo of "No One's Little Girl" will still be felt within whatever band will follow, with the whisper of "I'm not gonna be / 'Cause I don't wanna be" reverberating on and on as far as a young girl's ear can hear.

Get the Best Fit take on the week in music direct to your inbox every Friday