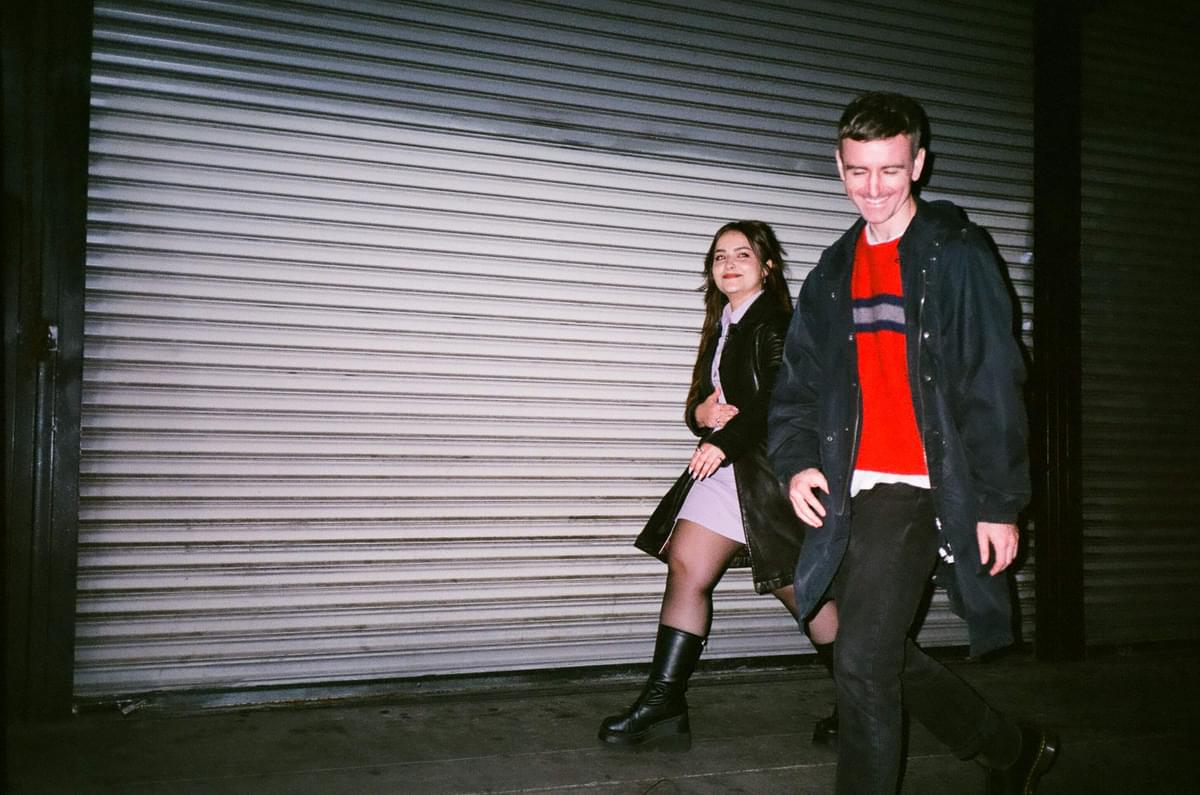 On the Rise

crushed
10 February 2023, 09:00
Writing love letters to 90s radio through meaningful internet friendships, LA duo crushed are architects of their own dream pop universe.
"We were both extremely depressed and wrote some pop songs," recalls crushed's Bre Morell from her home in LA, attempting to paint a portrait of the grim landscape from which their debut EP extra life was forged. 960 miles away in Portland, Oregan, her bandmate Shaun Durkan laughs.
It's a significant distance that has come to define, rather than hinder, their creative partnership – one that began by chance, amidst a sombre moment in each of their personal histories.
A year ago, in the earliest days of extra life's conception, Morell was entering a forlorn period of life. She was alone in LA, having recently severed a long-term relationship, and lamenting the loss of her beloved dog. Having newly relocated from San Francisco to Portland, Durkan was grappling with similar isolation. A stranger in an unfamiliar city, he found his days mostly devoid of purpose, though edging towards a two-year milestone of sobriety. "It was dark times," Morell concludes, recalling the gloomy era before they collided to make, perhaps, one of 2023's most exciting debuts.
A euphoric re-imagining of 90s dream pop, extra life exists as a brooding reflection of all that lead up to their chance encounter. Though both Morell and Durkan boast rich musical portfolios (Durkan, a member of acclaimed shoegaze band Weekend and now a sought-after producer, Morell, the lead singer of Temple of Angels) crushed represents a new chapter one that heavily embraces all that came before.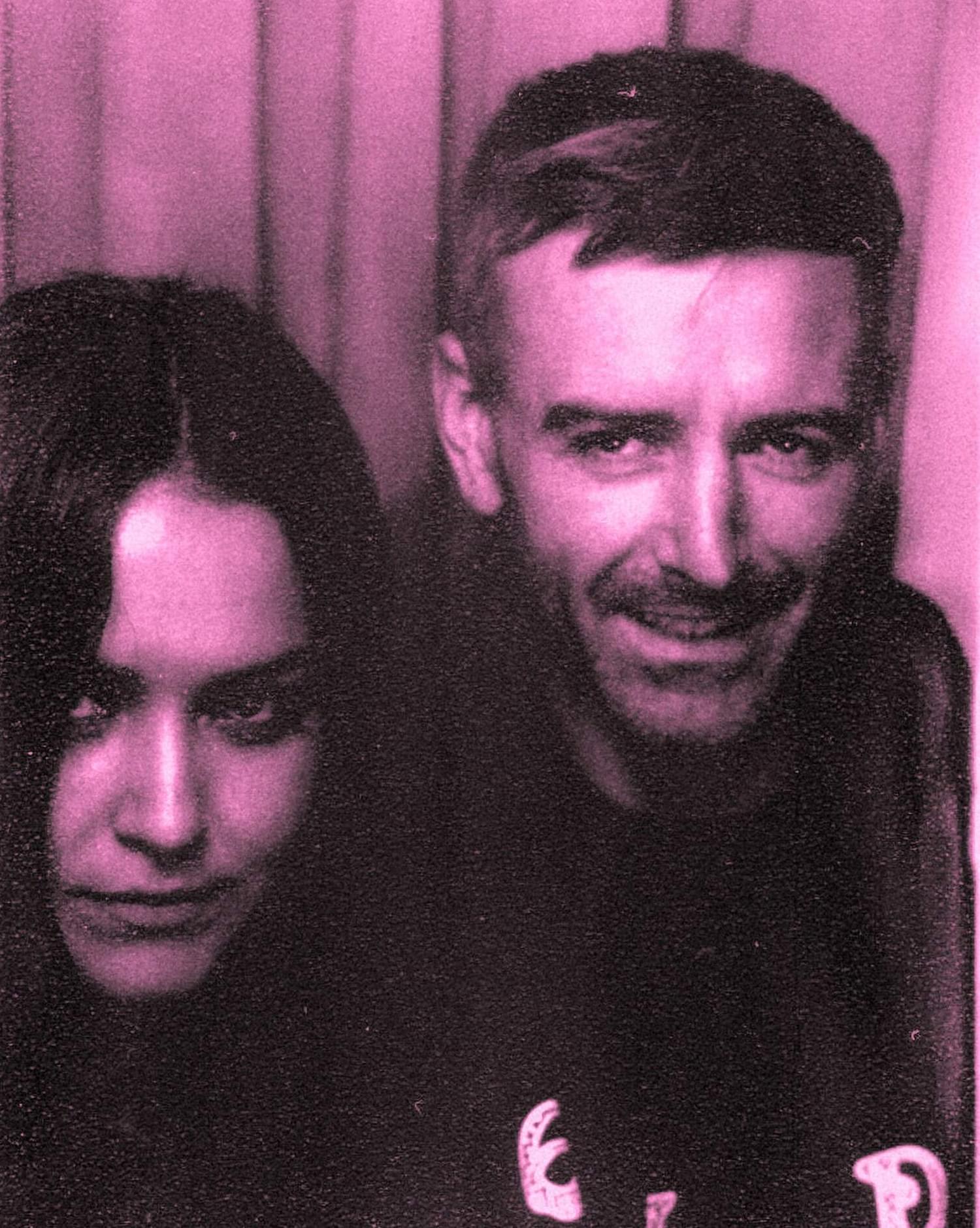 It begins with Durkan's upbringing in California, soundtracked by the cumbersome musical influence of his Dad, who played in numerous punk bands. He imparted carefully curated shreds of musical wisdom to Durkan, delivered through hand-me-down records like Killing Joke's self-titled debut, Joy Divison's Permanent and Gang Of Four's Entertainment!. Later, the Sex Pistols would define Durkan's adolescence, spurred by a fascination with Sid Vicious, who he viewed as an eccentric comic book character. "It's kind of twisted but I thought he was the coolest guy in the world," Durkan says, before adding with a grin: "Which unfortunately set the tone for a lot of my adult life."
From that point, his sole ambition was to join a band. "I remember going to my first guitar lesson and coming home crying because I couldn't immediately play like Billy Joe from Green Day," he recalls. In middle school, each waking moment was spent convincing friends to form bands, which enjoyed fleeting lifespans touring their parents' garages, taking breaks to serenade passing cars from the pavement.
Morell's childhood existed in another realm, raised in suburban Houston where, in the 90s, empowered female pop was rife. Destiny's Child and Dixie Chicks carved a landscape of girl power in the state, while the Spice Girls made infinite laps of her CD player. So, when her Dad attempted to diversify her sonic palette, it was met with rejection: "He had to literally drag me to see Foo Fighters when I was a kid. I didn't wanna go, I was so embarrassed," she laughs.
Plagued with the frustration of existing on the fringes of city life, Morell recalls scouring the internet in search of crumbs of culture absent in her own insular universe. At 15, amid a digital deep dive, she discovered Radiohead. "I was just floored," she remembers. "That was the moment everything changed and I was like 'these are my people'." Two years later, she moved to Austin for college, delving into the city's bustling music scene the moment her bags hit the floor – while harnessing a hidden desire to be on stage herself.
Back in San Francisco, Durkan was forming his first "serious" band, Weekend, as an aggressive rejection of the wave of stoner, surf-rock sweeping the city in 2009. "We really wanted to do something dark and something that felt a little dangerous," he elaborates, detailing the ambition that propelled their debut album Sports. To their surprise, it was met with widespread critical acclaim. "We thought what we were doing was special and important, but I don't think we thought anyone else would feel that way," he admits. But pressure to up the antics for their second album weighed heavy: "I think we were a little bit tortured by the expectation we were going to do something even more incredible."
Meanwhile, Morell became heavily involved in her college radio station – where she played Sports on repeat (she recently recovered a photo of the radio team at a Weekend show, 10 years prior to meeting Durkan). Her motivation to perform, alongside her self-confidence, slowly dwindled, and she concluded that her future in music would remain backstage.
Years passed before she mustered up the courage to vocalise her urge to make music. A friend sent her some demos and a tentative invitation to join their band practice which, upon Morell's arrival, became the lineup for Temple Of Angels. "I don't think they could hear me at all 'cause they're such a loud band, but they were just like 'yeah whatever she seems fine'," Morell laughs. In 2018, they released their first EP, but those lost years in between still haunt her: "I just hate that I wasted so much time not doing what I really wanted to be doing my whole life, I wish I had never let that happen."
"We were living in this dream world and just having fun making music."
(B.M.)
In some ways, however, it's this "wasted" time that allowed for the formation of crushed, the years acting as a buffer to orchestrate Morell and Durkan's collision at the perfect moment. In 2020 Durkan, now newly sober, began hosting a show on a community radio station in San Francisco, rekindling his love of music and marking a "new era" of his life. However, he admits being terrified of speaking on air – despite a lifetime of performing on stage: "It's funny I felt so much pressure because no one was listening, my time slot was midnight to 2am," he laughs.
Thanks to a concoction of fate and Spotify algorithms, one day while driving through Oakland ("I was doing something really mundane like going to Ikea," he jokes), Morell's voice began blasting through his car speakers. "I just remember being totally blown away," Durkan recalls. Immediately, the song was added to the show's playlist, which he shared on Twitter.
Morell, who had relocated to LA, saw the Tweet and reached out to Durkan to share that she'd played his music on her own radio graveyard shift. A digital friendship blossomed, and they eventually decided to combine their musical efforts, remotely. Their first collaboration was a shared playlist - an audible mood board for the project that hosted an eclectic mix of The Sundays, Cowboy Junkies, Dido, The Cardigans and Sneaker Pimps. "Torn" by Natalie Imbruglia was the undisputed opening track: "We just loved that energy and wanted to bring that back in the music that we were making," Morell explains.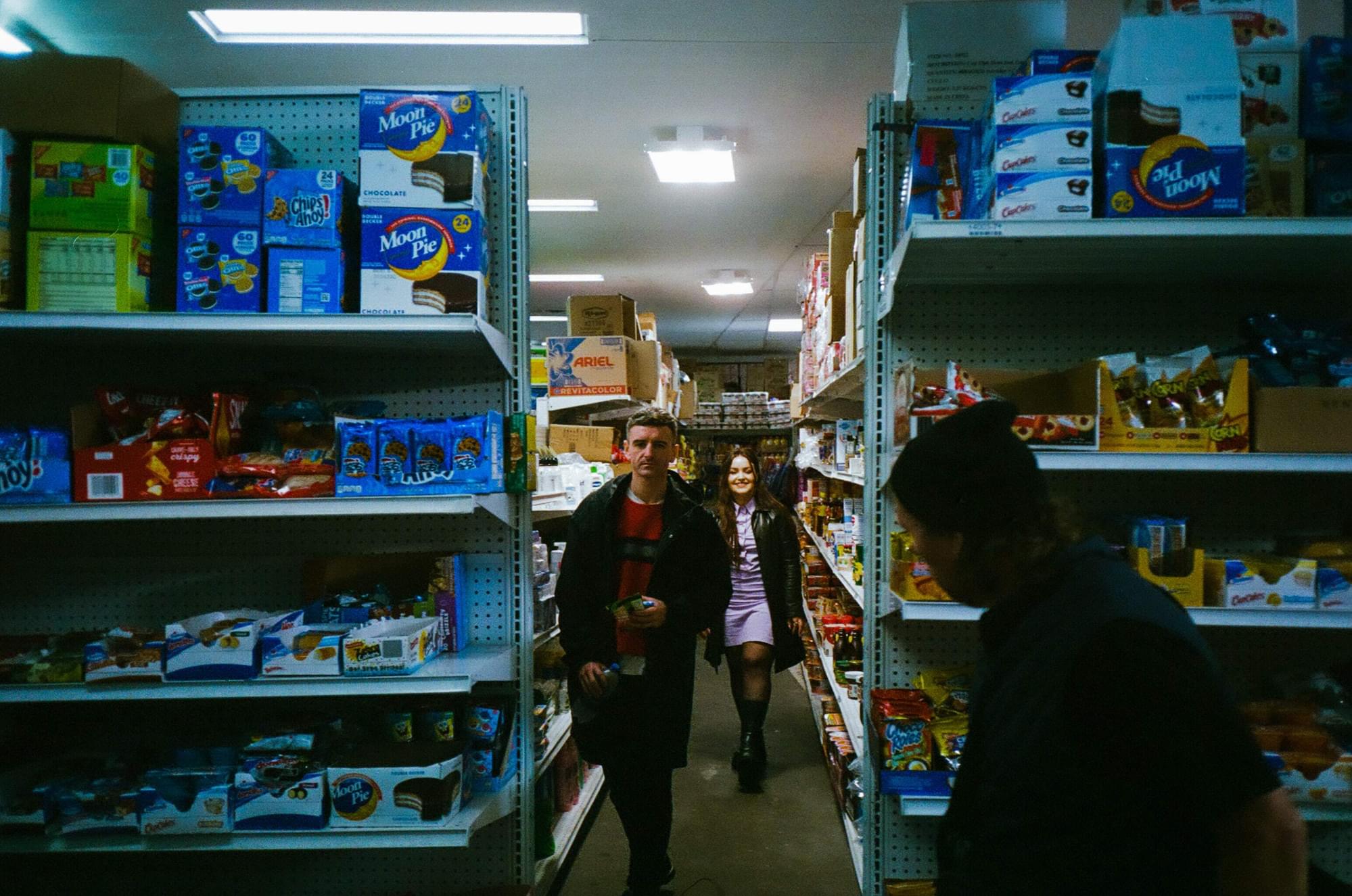 As a result, the EP became a love letter to 90s radio, to which they each had individual affinities. For Morell, the crackling airwaves conjured a sense of freedom, a sign of life outside a mundane suburban existence. She recalls Saturday nights spent hunched over her metallic, lavender boombox, tuning into pop stations that were broadcasting live from Houston's techno clubs. "It just blew my mind, it was a portal to a completely different world," she gushes. For Durkan, it's instilled with a deep sense of comfort – evoking flashes of his Mum's hand on the steering wheel as she drove him to band practice, and his friends' teenage faces illuminated by California sunshine.
These references make their way onto the EP alongside efforts to chronicle this current moment of their lives. It's an auditory scrapbook, interwoven with almost 200 samples that range from video game sound effects to voice memos and old piano recordings, instilling the project with a deep sense of intimacy. "milksugar", for example, opens with a distorted snippet of Morell's late dog breathing – a sweet dedication to her companion of 16 years. "I really was happy that we got to incorporate a little piece of him," she says, gently resting her hand on her heart. When asked if there are any other favourites, though, Morell jokes: "Legally, no", which is met with laughter and a resounding "Yeah, no comment", from Durkan.
Last year, crushed played their first show to an almost-sold-out crowd – an event that doubled as one of a handful of first in-person meetings the pair had. The overwhelmingly positive response has been a surprise, as Bre remembers the simplicity of their initial intention: "We were living in this dream world and just having fun making music."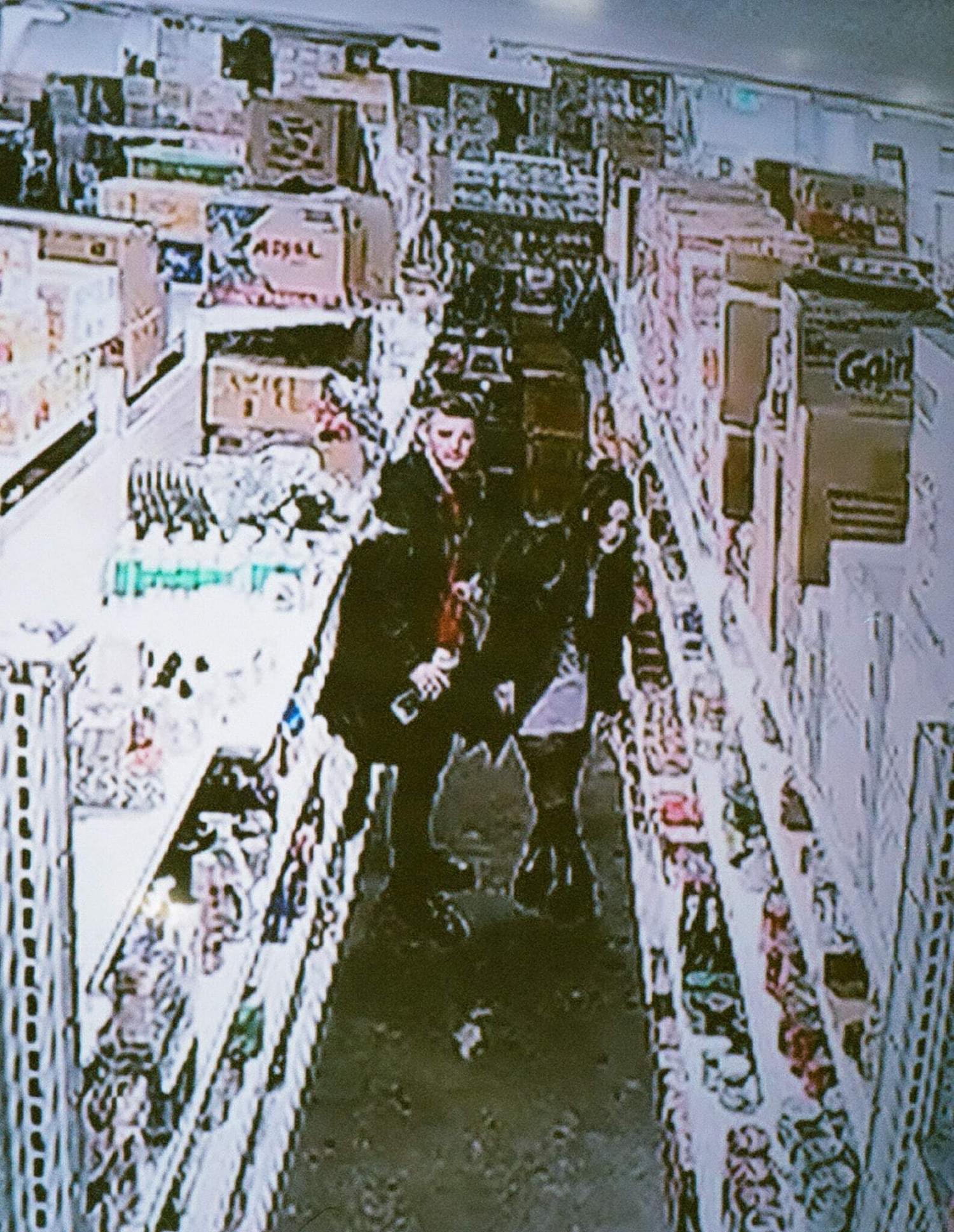 It's why Durkan has settled on one defining adjective to summarise the project: pure. "None of this was informed by the music industry. Being commercial was never part of the goal," he affirms. Instead, they sought to build a dream pop paradise, constructed of only their most revered. "It came from our natural curiosities about things that we love we're really in love with and really captivated by. That's why the songs turned out so well."
Get the Best Fit take on the week in music direct to your inbox every Friday